Rock Chalk Roundball Classic supports young Jayhawks in need
Editor's note: This story originally appeared on kualumni.org in 2019. We brought it back from the archives in celebration of the 15th Rock Chalk Roundball Classic!
KU basketball athletes become legends when they wear the crimson and blue in Allen Fieldhouse. But what they do with that fame is up to them.
Since 2009, the Rock Chalk Roundball Classic has invited KU alumni back to Lawrence for a charity basketball game to raise money for local children fighting cancer.
From The Start
The Roundball Classic began as most charity events do: with a specific benefactor in mind. KU's Director of Broadcasting Brian Hanni, j'02, more commonly known as "the voice of the Jayhawks" was at KLWN radio when he created the event to benefit the family of Lawrence youth pastor Brandon White who had lost his life to cancer.
After the success of the first game, the Roundball Classic became an annual event. The focus was shifted to benefit families of children with pediatric cancer or other challenging illnesses.
Starting in 2018, the event went from a one-night event to a full weekend, with a VIP dinner on Friday and a celebrity bowling tournament on Saturday.
"The first Roundball Classic had 16 players with 1,000 fans watching at Free State High School," says Hanni. "This year we have 50 players coming from across the world. Last year we raised over six figures across the three events. It's changed the scope of the benefits for these families who go up against the fight of cancer."
Behind the Scenes
The Roundball classic is an annual event, but it takes months of planning to make it happen. A 20-member board convenes to nail down all the logistics: fundraising, auction items, location, travel, lodging, media, concessions, merchandising and more. Most important, they select the "Starting Five", the group of children battling cancer who will be the stars of the evening and the benefactors of the event's ticket sales, silent auctions and donations.
The board is filled with those who know the power of the event firsthand. Most of them joined when they had a connection with a child in the Starting Five and have stayed on since.
"We've been blessed with incredible people. They are the real muscle and hustle of the event."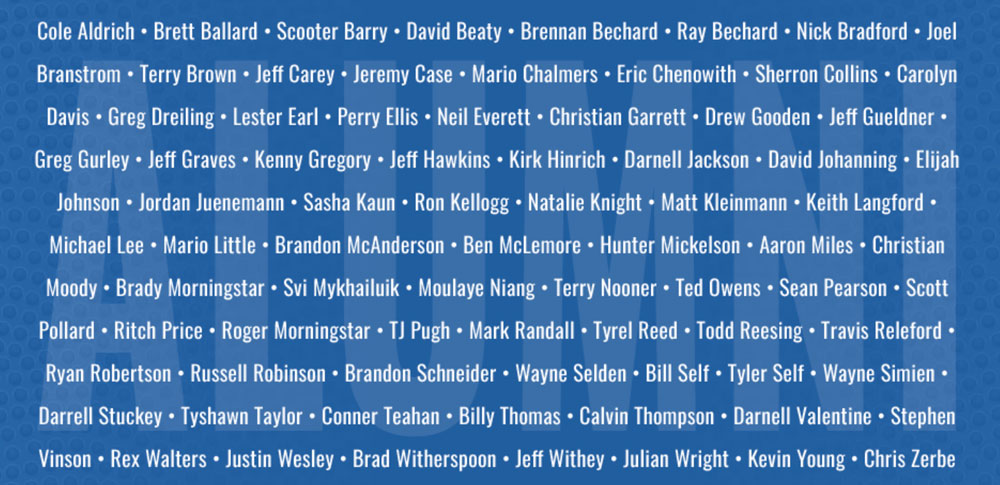 Every year, it seems the event grows in size, scope and most importantly, money raised.
"It gets bigger and better each year," Hanni says. "It's a pretty easy sell to our athletes, to come back to Lawrence to have a reunion and bless these kids. And when you get the star power, Jayhawk nation blows the doors off in terms of money and support. I never would have believed how big it's grown."
Some athletes' impact on the children go beyond the weekend too.
"Think about the difference the three days can make in these kids' lives," Hanni says. "We've had some special ambassadors over the years, who truly get what their platform means. Cole Aldrich is one guy who totally gets it. Any time we have a kid struggling, Cole will record a video to send to them to let the kid know he's thinking of them."
Making Memories
Each year brings a new Starting Five, each with their own stories of fights against cancer.
In 2018, Lawrence residents Nolan and Laura Henderson's 8-month-old son Grit was diagnosed with embryonal rhabdomyosarcoma, and was undergoing treatment at St. Jude's Children's Hospital in Memphis. Nolan was in Lawrence to represent the family, but his wife and son couldn't be there.
Or so he thought. Nolan's family made a surprise appearance when the Starting Five was introduced, bringing one of the loudest cheers of the night.
Topeka resident Mindy Howland hadn't even heard of the Rock Chalk Roundball Classic when she got the news.
A surprise email let her know her six-year-old daughter Rachel was nominated as a beneficiary of 2016's Roundball Classic. Rachel was diagnosed with Neuroblastoma in 2015.
The night was a blur for the Howlands. Rachel was introduced as a starter by former KU public address announcer Hank Booth and walked through a tunnel of every Jayhawk athlete, ready for high-fives. And for the game, Rachel got a courtside seat next to coach Self.
"She loved KU," Howland says. "Was crazy about the Jayhawks. She had a book called I am a Jayhawk, and anytime she met a KU basketball or football player, she had them sign the book. It's filled with signatures."
The day they met, Rachel and Hanni immediately hit it off. "They were like best buds, and he was sure to have her in his life from then on," Howland says. "He took her as his date when he was honored at the Royals in the Buck O'Neil legacy seat. She would light up every time she saw him. She ran up to him and jumped into his arms."
Rachel lost her hard-fought battle with cancer in 2018. At a past year's Roundball Classic, banners were raised to celebrate Rachel and other beneficiary children who have since passed away.
For the Cause
KU standouts like Frank Mason and Ben McLemore grab the headlines when they come back to Lawrence for the Roundball Classic, but if you dig a little deeper, the best stories are on the sidelines.
"Obviously, I hope the fans have a great time watching the game, and enjoy the autographs and selfies with the players," Hanni says. "We try to give fans the best interactions with the alumni they can get all year."
"But I hope the loudest cheer is when we introduce the Starting Five."
The Rock Chalk Roundball Classic begins Thursday June 8. For more information, including tickets, visit rockchalkroundballclassic.com.
Our Jayhawks Give Back program is presented in partnership with Andrew Wymore, Senior Realtor with ReeceNichols.
Jayhawks Give Back celebrates 'Hawks who are making a difference in ways big and small. Each quarter, we'll feature a member of the KU family and their story. If you know a Jayhawk who should be featured in Jayhawks Give Back, let us know!
— Ryan Camenzind